15th March 2018
What are you Reading at the Moment?
So – what are we all reading? I'm asking the question as my TBR pile is growing and growing and I'm so far behind it isn't true. Consequently I've had to have a bit of a purge. To be honest it would never have happened if it hadn't been for the need to remove an old TV from an upstairs room that was partially blocked by a bookcase. The TV, being of the old fashioned variety, was huge and there was no way it was coming out of the room while the bookcase was in situ. Hence it had to be cleared.
YAs we will be moving (hopefully sometime this decade) this spurred me on to box up all the books I wanted to keep and all those that had to go. I was ruthless. Stephen King, James Herbert, Dean Koontz – if the book wasn't a favourite and I was never likely to read it again into the "to go" box it went. In fact a whole pile of books I've never got around to reading were unceremoniously dumped in the box too. It was hard, but with several books to read and review for people I know and feeling a bit guilty that I just haven't had the time, I had to harden my heart.
Anyway, back to my question – what are we all reading?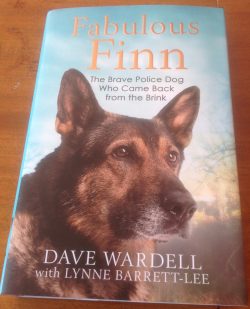 I'm coming up to the end of "Fabulous Finn", a lovely book about Police Dog Finn written by his handler Dave Wardell.  For anyone who doesn't know about Finn, he was very badly injured in the line of duty and almost died while protecting Dave from an assailant. Dave is convinced Finn, although seriously wounded, still saved his life by putting himself between Dave and a very sharp knife. Finn has since received the canine equivalent of the George Cross for bravery.
As an aside, did you know the killing or injuring of a police dog in the course of doing its duty is only considered criminal damage? In other words the sentence for killing a police dog (or horse) would be the same as for smashing a window or kicking in a person's cucumber frame – unbelievable! Dave is currently lobbying parliament for a change in the law so all service animals are protected by more severe penalties for attacks against them (if you're interested Google Finn's Law to find out more and add your name to the petition in its support).
The criminal that did this to Finn was only charged with criminal damage!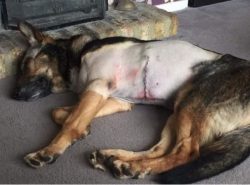 Anyway back to the book. It's obviously about how Finn was injured and his recovery, but also goes into Dave's early days and why he so wanted to be a Police Dog handler. It is inspirational and if I'd read a similar book when I'd been in my twenties I think I might have considered this as a career.  For anyone who loves dogs I'd recommend giving "Fabulous Finn" a try. I'm a great GSD lover, having had two myself, so this book was perfect for me. On the down side I keep looking at the GSD Rescue Elite tweets for dogs needing a new home. I would dearly love another one, but I'm not sure I can bear the heartache of when they pass.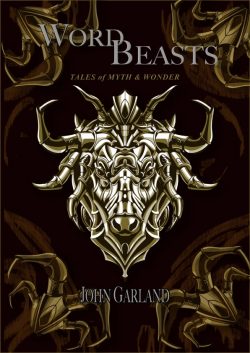 Another book I'm reading at the moment (one I have promised to review on Amazon – sorry Jon) is Word Beasts by Jon Garland. It's an anthology of short stories reminiscent of M R James and Conan Doyle. I've only read the first few, but I'm really enjoying what I've read so far. They have that really creepy Christmas Eve ghost story feel to them that I adore. If you like short stories of the scary kind I'd recommend you give it a go. The reviews Jon has had so far are excellent.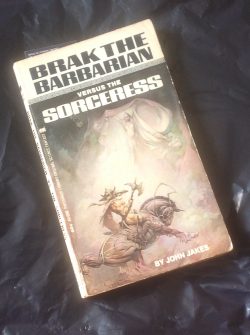 The book I've just finished is a real oldie from 1969. "Brak the Barbarian versus the Sorceress" by John Jakes. It was one of my late brother's books and I found it down at the family home in Torquay (this is where we're meant to be moving to). I read it when I was a teenager and l remember loving it at the time and went on to read some of the Conan books on the strength of it. It does creak a bit now, even so it is still a good read and brought back quite a few memories. The character Brak is a bit over the top macho (as was the norm in those days), but this is countered by his enemy being a truly evil female. If you like old fashioned "sword and sorcery" it's worth a look if you can get hold of a copy.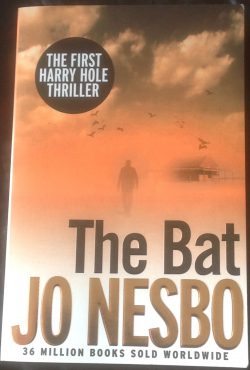 I was recently invited to read and write a review for a forthcoming novel by Jo Nesbo, which I quite enjoyed although it wasn't his usual style. It was a modern take on Macbeth for a classic series Random House Penguin are launching shortly. I liked the atmosphere he created, which was almost post apocalyptic in feel and on the strength of this book I bought a copy of "The Bat" his first novel in the Harry Hole series. Harry is a Norwegian detective and his first outing is set in Australia where he is helping the local police with the murder of a Norwegian national.
I really enjoyed the book and Nesbo's writing style, which isn't quite as dark as some Scandinavian Noir. There was one tiny hiccup with the translation where the author made a small, but funny joke, which made me go "what?" but I realised what he was getting at even though a word was translated incorrectly. I probably noticed this because it was the sort of quip that I put into my writing. Nevertheless I will be buying more of the series. One mistranslation out of over one hundred thousand words isn't bad!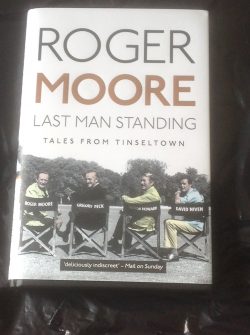 The other most recent book I've read was "Last Man Standing – Tales from Tinseltown" by the late Sir Roger Moore. It is a great read and what is so nice about Sir Roger is that he doesn't slag off other actors or professionals in the industry, though he does tell some "deliciously indiscreet" stories about them. If you enjoy biographies and stories from the golden age of show business this is the book for you.
So what is next on my heap? Once I've finished "Fabulous Finn" and "Word Beasts" I'm going to start on Shadowblack by Sebastien de Castell, the sequel to his YA novel Spellslinger, which I loved to bits. The books are set in a world where the elite have magical gifts, but if you should fail to come into your magic you are destined to become a servant and be treated not much better than a slave. Our hero Kellen, who comes from a ruling family, is heading for disgrace. He has small inklings of power, but just somehow can't get them to work. Instead he tries to pass the tests by using his brains and trickery. Unfortunately it all goes horribly wrong for him when he's unwittingly betrayed by his own sister. Then a mysterious stranger enters his life as well as a grumpy squirrel cat and Kellen begins to learn that friends should be trusted over family.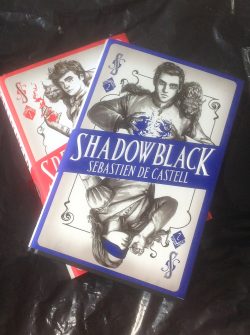 I found some of the first book heartbreaking to read, as I truly felt for Kellen and how cruelly he was being treated. I was angry with those hurting him, though to their minds with the best of intentions.Anyway I can't wait to start Shadowblack.
If you've read any of the above or have recommendations of what I should read next please feel free to leave me a message on the website or you can contact me on Twitter @SueTingey.
Back to all News