11th May 2019
Interview with Damien Larkin – Author of Big Red
I recently had the privilege of being sent an advance review copy of the new Science Fiction novel Big Red by Damien Larkin. I will admit I am not usually a Military SciFi fan, I think I was put off during the late sixties/early seventies when there were some real shockers out there. However recently there have been some really excellent authors coming through and after reading The Martian a few years ago I thought I'd give Damien's novel a try and – I was blown away! I loved this novel. It was exciting, the characters were relatable and the world and circumstances in which they found themselves was intriguing.
Having enjoyed it so much I just had to have a chat to Damien to find out a bit more about him and he very kindly agreed to an interview. First though a bit about the novel!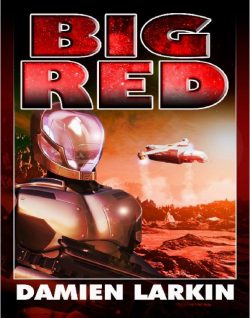 Big Red By Damien Larkin
We have always been here…
Traumatized by the effects of Compression travel, soldier Darren Loughlin holds the key to the fate of Earth's Martian colonies. With his Battalion decimated, his fractured memory holds the only clues to the colony-wide communications blackout.
With time running out, Darren pieces together his year-long tour of duty with the Mars Occupation Force. Stationed in the Nazi-founded New Berlin colony, ruled by the brutal MARSCORP, he recounts his part in the vicious, genocidal war against the hostile alien natives and all who question Terran supremacy.
But as his memories return, Darren suspects he is at the centre of a plot spanning forty years. He has one last mission to carry out. And his alien enemies may be more human than he is . . .
Hi Damien, thanks for giving me some of your time to chat about Big Red and writing in general.
When did you realize you wanted to be an author, and what was your first foray into writing? Do you still look back on it fondly?
Deep down, I always wanted to be a writer but I pushed it aside or found an excuse not to. It was always a case of 'Oh, I'll wait until things get quieter at work' or 'I'll wait until my children get older' etc. In the end, it took one of my app development projects blowing up in my face for me to sit back and ask myself what I really wanted to do. As clear as day, I realised I wanted to write, so I pulled out my old laptop, found a couple of pages I'd written about two years before and picked up where I'd left off. Within three months, I had the first draft of 'Children of the Dying' completed, which I later went on to self-publish.
Tell us a little about Big Red.  What was your favourite part to write?
Big Red is a military sci-fi told from the perspective of a young Irish soldier Darren Loughlin, conscripted into a British Army-led organisation known as the Mars Occupation Force. After returning from a year-long tour of duty in the Nazi founded New Berlin colony on Mars, he and his battalion wake in a highly traumatised state at the same time that communications with Earth's off-world colonies drop. For the authorities, it becomes a race against time as they attempt to piece together what happened from Darren's fractured memory but the more he remembers, the more he begins to suspect that he's at the centre of a plot spanning forty years.
My favourite part was the scene where Darren gets immersed in the Rig training simulations on Mars. He finds himself in his native SouthDublin, only it's an absolute warzone. Part of the exercise is that he hasto locate his missing partner and daughter, all while fending off the enemy. He dies hundreds of simulated, agonising deaths, only to be forced to continue. I love the way that at the start of that scene, he's innocent and inexperienced, but by the end, he's become cold-hearted, ruthless and everything else the Mars Occupation Force wants him to be.
What inspired you to write the novel? And where do you draw your inspiration from in general?
All of my inspiration comes from my dreams! I've always had a very vivid imagination and because of that, I have very surreal, realistic dreams. I based 'Children of the Dying' on a dream about young teenage soldiers in Roman Legionary style armour and weaponry fighting in a god-awful battle while the countryside around them burned. Similarly, I had a dream about highly traumatised soldiers returning from a mission to Mars. I thought about it for a good few months, trying to build the world and figure out the characters and overall story. In the end, the first two chapters of Big Red are based very loosely on what I dreamed!
How were you introduced to genre fiction?
The first book I ever read cover to cover when I was younger was 'Ender's Game' and after that I was hooked. I used to go to the library every week and come back with stacks of sci-fi and  fantasy books. I just couldn't get enough!
What's your opinion of the genre today, and where do you see your work fitting into it?
Like everything, the genre is evolving in new and interesting directions. It's great to see new ideas being tested and old ones being re-worked into something exciting and fresh. I would definitely place Big Red in the new wave of military sci-fi alongside John Scalzi's 'Old Man's War'.
Do you have any specific working, writing, or researching practices?
I think the best practice I adopted was the elimination of excuses. Rather than fob off a task, I make sure I have what I need to complete it. It can be exhausting balancing looking after two young children full-time, holding down a part-time job and writing, so I have to make sure I don't waste what little free time I have. If I'm tired and don't feel like writing, I have to ask myself it that's just an excuse (i.e. to doss and watch TV) or if I really need to go to bed. If it's an excuse, then I force myself to write!
Do you have any current or future projects you can tell us about?
I'm currently about a third of the way through a dystopian sci-fi thriller about a world ravaged by a drug that gives its users temporary telepathic powers. I'm also hoping to contribute to the British Irish Writing Community's (as yet unnamed) anthology. I have a great idea for a short story from the Big Red character Noid, covering her perspective of the last two chapters of the novel.
What are you reading at the moment (fiction, non-fiction)?
At the moment, I'm reading David Weber's first Honor Harrington novel although at the pace I'm reading it, I could have it done in the next day or two.
What's something readers might be surprised to learn about you?
I once partnered with British-American model and comedian Stacey Hayes to create an emoji app!
How would you describe yourself in three words?
Determined, loyal and wacky…
What are you most looking forward to in the next twelve months?
Seeing Big Red turn into a success! I'm naturally an optimist but on top of that, myself and my publisher have poured so much energy into the marketing side of things. I'm determined to do whatever it takes to get Big Red into the hands of people who would enjoy it and hopefully develop it into a series.
Thank you Damien, it's been good talking to you and good luck with Big Red.
Big Red is due out on the 14th May! 
About Damien: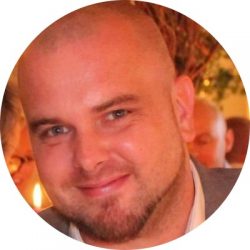 Damien Larkin is a part-time Planning Analyst and a full-time stay-at-home father of two young children. He enjoys turning terrifying nightmares into novels and currently resides in Dublin, Ireland.
https://www.damienlarkinbooks.com/
Links:
Barnes & Noble – https://www.barnesandnoble.com/w/big-red-damien-larkin/1129887528?ean=2940155877271
Kobo – https://www.kobo.com/us/en/ebook/big-red-11
Amazon – https://www.amazon.com/Big-Red-Damien-Larkin/dp/1939844606/ref=sr_1_1?s=books&ie=UTF8&qid=1542632970&sr=1-1&keywords=Big+Red+by+Damien+Larkin
Back to all News